MY MOM'S PRICELESS TIPS ON BEAUTY AND STYLE

Quoting my mom on skincare:

Find the product that's right for you and make sure it's always fresh. Expensive treatments tend to stay on the shelf much longer because few people can afford them. Plus they contain more chemicals. Read the labels on them, before buying.

Always remove makeup and apply a night cream all over your face and neck before bedtime.

If you go to a cosmetologist, make sure that her hands and utensils are clean and sanitized.

Massage your face gently. Routinely slapping and vigorously massaging your face will make your skin sag, prematurely. And you'll have to keep doing that more and more often if you want the skin on your face to still look plump.

Apply a light cream on your face, before putting on makeup.

Apply a face mask, at least once a week. Use whatever you have in the kitchen: eggs, milk, honey, fruits, vegetables... Mix and match.

What can betray a woman's age are her neck, hands, her elbows, and her knees. Make sure that you give them the same thorough care that you give to your face. Apply cream on them, once or twice, daily.

Massage your skin only upwards, to fight gravity and to increase the blood flow to the brain.
Don't use commercial sunscreen. Use plain cacao butter.

Don't use tanning beds.

Never start tanning during midday, only early in the morning and late afternoon, and do it gradually.

Always use a vitamin-rich body lotion. You won't get stretch marks when you put on weight, or you're pregnant. And your skin won't remain loose when you get back in shape.
Sleep without a pillow. You'll never get a turkey neck.
Walk straight, with your head up high. Workes miracles for a toned jawline and a flat stomach.

Quoting my mom on hair:
Don't color your hair. You will never recover your natural shade.

If you want highlights, pour a glass of chamomile tea, on your hair, after rinsing your conditioner. If you want red shades, use linden tea. For dark ones, use walnut leaf tea.
Home soap is best for cleaning your hair, but any other soap will do. Better to skip most shampoos, altogether.
The best hair conditioner is a little bit of vinegar mixed in a glass of water.
Egg yolks and kerosene make the best hair masks. You can mix them or use them separately.
Teasing damages your hair.

Spray beer on your hair, before styling. You won't need to use any other hairspray, afterward.
Hairspray is not good for your hair. Use it only if you have no choice.
Avoid blow dryers, as much as possible.

Quoting my mom on makeup:
Little to no makeup is the way to go.

Wearing makeup all the time will make you age faster.

Use loose matte powder so your face won't shine. Avoid foundation. Not only that it cakes and cracks on your face, within hours, but it ages your skin, fast, over time.

Never use powder or foundation around your eyes.

Your face is like a canvas. Only use color where necessary, to create balance. Nature, not makeup should be left to shine through.

You cannot use strong shades on eyes and lips, at the same time... unless you're a clown.

The best looking nails are those clean and short trimmed.

Long and fake nails are bad taste.

The colors and shades of lipstick, blush, and nail polish you're wearing should always match.

Quoting my mom on fashion:
Nothing beats "classic".

Always match colors and shades, appropriately.

Black and white combinations are most elegant and sophisticated.

The most elegant and refined winter style is wearing all white, from head to toe.

The most elegant and refined summer style is wearing all white, from head to toe.

Wearing 2 complimentary colors at once is only for parrots and clowns.

Wear what fits you, not what's in fashion.

Wear only fine jewelry, nothing less than gold, even if you only can afford one piece. Fashion jewelry is a waste of money and is bad for your skin.

Only the Christmas Tree and the nouveau riche wear frippery and a lot of bling.

Even expensive clothes can make you look like an Oriental salad if you mismatch them.

A black dress accessorized with black patent leather stilettos, black patent leather purse, fur jacket, and one striking piece of fine jewelry will make you stand out, even at the most pretentious events. Everyone will remember you.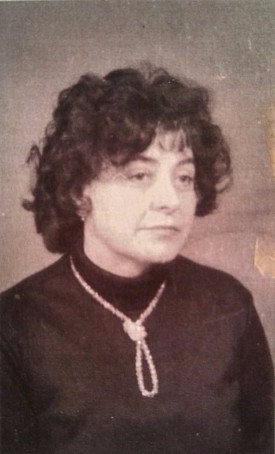 My mom, Lidia Chivulescu (1933 - 1994).